New Cicoil Low Smoke Zero Halogen Cable Catalog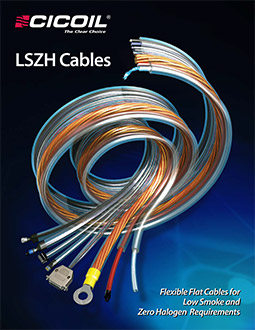 Valencia, CA; September 8, 2020: Cicoil, the leading manufacturing of High-Performance, Flexx-Sil™ jacketed Flat Cables and Assemblies, is pleased to announce the release of its "New" Low Smoke and Zero Halogen Cable Catalog. The 16-page, full color PDF catalog offers a selection of 448+ standard part numbers, 6 products, custom capabilities, information resources, comparative tables and technical sales support tools.
By nature, all Cicoil cables are halogen & flame retardant (HFFR), however the select product designs in the LSZH products catalog have been tested by a UKAS certified lab for smoke, toxicity, flammability, and halogen content. The Cables passed all the tests!
The innovative catalog features one-page outlines for each LSZH product, including product features & benefits, specifications, applications, photos and ordering information for each bulk cable and cable assembly design:
▪ Continuous Flex Hi Flex Unshielded Multi-Conductor Cables: Available from 28 AWG to 4 AWG with 2 to 12 conductors, this cable offers long performance life in dynamic flexing applications.
▪ Continuous Motion Hi Flex Single Conductor Cables – Available from 30 AWG to 4 AWG, this power cable is excellent for high voltage applications.
▪ High Flex, High Temperature IDC Ribbon Cables - Available in conductor counts up to 64 conductors, the 28 AWG ultra-pure cable performs exceptionally well in extreme temperature conditions (-65°C to +260°C)
▪ High Flex, High Temperature Micro IDC Ribbon Cables - Available in conductor counts up to 34 conductors, the 30 AWG cable is excellent for tight spaces
▪ High Temperature Festoon Cable – Available from 18 AWG to 4 AWG, this cable is excellent for use in extremely harsh environments.
Located at https://www.cicoil.com/support/view-lszh-catalog-online, this "Paperless" Overview Catalog can be easily downloaded to a PC, laptop and mobile devices, such as Apple and Android cell phones and tablets.
Cicoil's "Crystal Clear" LSZH cables contain no harmful contaminants, are low outgas, Class 1 Clean Room Rated. RoHS & REACH Compliant and are cured continuously, with no debris or material impurities in an automated, climate-controlled environment. The cables also pass UL/CSA VW-1, FT 1 & FT 2, UL 94V-0 flammability testing, HL1 & HL2 levels of EN 45545-1 and FAA burn testing.
If you would like to learn more about our Innovative Flat Cable Technology and how Cicoil developed the First IDC Ribbon Cable, helped put a Man on the Moon, and designed the first Class 1 Clean Room Cable, please contact our office at 661-295-1295 to discuss your application.
Cicoil has been a leader in designing and manufacturing high performance cable assemblies for over sixty years. The company's Patented Flexx-Sil™ Flat Cable Technology provides high flexibility, extremely long life, and they can withstand temperature extremes from -65 degrees to +260 degrees Celsius. Cicoil's flat cables are used in thousands of demanding applications, including aircraft fuel control cells, semiconductor automation, and the International Space Station. Cicoil designs and manufactures its Flexx-Sil™ jacketed cables and cable assemblies in an automated facility in Valencia, California. Cicoil's quality assurance system is certified to the ISO 9001 (AS9100) standard. Visit www.cicoil.com for more information, or call 661-295-1295 to speak to an application engineer.