World's First 3D Robotic Sign Powered by Cicoil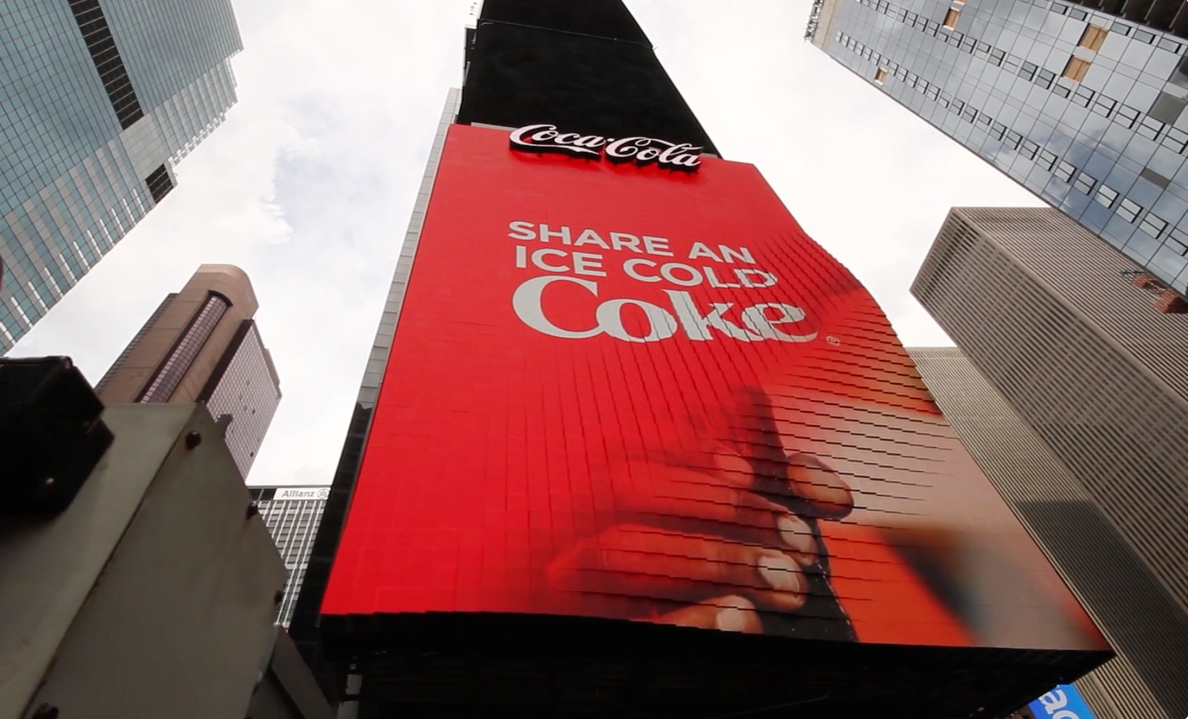 Valencia, CA; August 22, 2017:
Cicoil, the leading manufacturer of high performance Flat Cables recently helped Coca-Cola revolutionize its Times Square sign with a New 3-D Robotic Video Display.
The Sophisticated 68 ft. high x 42 ft. wide Robotic Billboard is made up of 1760 high-resolution LED cubes, which are in continuous motion, exposed to all kinds of weather and operate 24 hours a day, 7 days a week. Since this is a very high profile location, Coca-Cola required one reliable cable that can perform in just about any operating environment. If one cube doesn't function, then the entire sign doesn't function.
Fortunately, Cicoil was there to provide a long-term cable solution that just wasn't a flexible one, but is one that is also a Mission Critical Design Solution as well. For almost 4 years, extensive durability, flex and harsh weather exposure testing was performed on various cables to see which one could consistently survive in these conditions. In addition to the physical requirements, the cables would also have to successfully provide power and signal transmission to each of the large sign's actuators and display panels as well. Unlike the other cables considered, Cicoil's flat cable was the only one to survive the rigorous testing.
In summary, Cicoil's lightweight flat cable was chosen not only for its flexibility, but because it provides excellent heat dissipation, tolerates cold (-65C) and hot temperatures (+165C) and withstands extended exposure to vibration, sunlight, wind, acid rain, ice, fungus, humidity and chemicals.
Howard Lind, Cicoil President & CEO remarks, "Cicoil is extremely proud that our Flat Cables were selected to power Coca-Cola's amazing 3D Robotic sign in Times Square. Cicoil's cables are critical to all 1,760 LED cubes that are in constant motion on the huge billboard, as they not only power the sign, they also continually flex as the LED cubes move in and out. Cicoil's cables survived over four years of rigorous testing, as Coca-Cola needed to ensure that such a visible advertisement was 100% operational, regardless of the weather conditions. I am so proud that our high-performance cables once again delivered 'Mission Critical reliability' to a customer that will accept nothing less."
If you would like to learn how Cicoil was "The Last Cable Standing" at Times Square (
https://www.cicoil.com/blog/company-news
), developed the First IDC Ribbon Cable and helped put a Man on the Moon, please contact our office at 661-295-1295 to discuss your application or to set up an on-site visit to your location.
Cicoil has been a leader in designing and manufacturing high performance cable assemblies for over sixty years. The company's Patented Flexx-Sil™ Flat Cable Technology provides high flexibility, extremely long life, and they can withstand temperature extremes from -104 degrees to +260 degrees Celsius. Cicoil's flat cables are used in thousands of demanding applications; including aircraft fuel control cells, semiconductor automation, and the Space Shuttle. Cicoil designs and manufactures its Flexx-Sil™ jacketed cables and cable assemblies in an automated facility in Valencia, California. Cicoil's quality assurance system is certified to the ISO 9001 (AS9100) standard. Visit
www.cicoil.com
for more information, or call 661-295-1295 to speak to an application engineer.