Ultra-Durable Flexx-Sil™ Jacketed Solar Panel Power Cables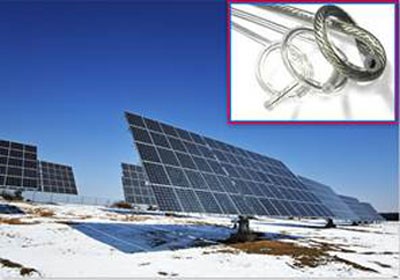 Valencia, CA; December 8, 2020: Rated for voltages up to 42,000 Volts DC, Cicoil's Flexx-Sil™ Jacketed Single Conductor and Multi-conductor Power Cables have been designed to provide absolute reliability in solar panel powered systems.
Cicoil's Crystal-Clear cable designs allow for uninterrupted performance in operation critical applications, such as low earth orbit Cubesats, ground based autonomous vehicles, drones & aircraft, Space Rovers & power subsystems, electric delivery trucks, floating solar farms, stadiums and various innovative solar projects.
Unlike other types of Solar Cables that become brittle when utilized in harsh outdoor environments, Cicoil's unique Flexx-Sil™ cables do not require external "armor" or conduit for protection. The ultra-durable outer jacket is "self-healing" from small punctures and will not deform or prematurely age due to prolonged exposure to UV rays, high levels of sunlight, ozone, radiation, intense heat (+260°C), acid rain, flames, salt water, humidity, fungus, cold temperatures (-65°C), vibration, shock, weathering, coarse sand, mechanical stress, most chemicals and tough weather conditions.
Cicoil's Highly Flexible Flexx-Sil™ jacketed solar cables (30 AWG to 4 AWG) are available in continuous lengths, cut to order, or as assemblies, complete with connectors of your choice. In addition, Cicoil offers anti-friction coatings, larger & smaller AWG sizes, and lower/higher voltage designs by request.
Cicoil's Sunlight & Heat Resistant Solar Cables are low smoke zero halogen. flame retardant, do not shed harmful contaminants, are low outgas to ASTM E-595, RoHS & REACH Compliant and are cured continuously, with no debris or material impurities in an automated, climate-controlled environment. The cables also pass UL/CSA VW-1, FT 1 & FT 2, UL 94V-0 flammability testing and FAA burn testing.
If you would like to learn how Cicoil developed the First IDC Ribbon Cable and helped put a Man on the Moon, please contact our office at 661-295-1295 to discuss your application or to set up an online video conference call.
Cicoil has been a leader in designing and manufacturing high performance cable assemblies for over sixty years. The company's Patented Flexx-Sil™ Flat Cable Technology provides high flexibility, extremely long life, and they can withstand temperature extremes from -65 degrees to +260 degrees Celsius. Cicoil's flat cables are used in thousands of demanding applications; including aircraft fuel control cells, semiconductor automation, and the International Space Station. Cicoil designs and manufactures its Flexx-Sil™ jacketed cables and cable assemblies in an automated facility in Valencia, California. Cicoil's quality assurance system is certified to the ISO 9001 (AS9100) standard. Visit www.cicoil.com for more information, or call 661-295-1295 to speak to an application engineer.