Ultra-Flexible Flat USB 2.0 Cables for Operation Critical Applications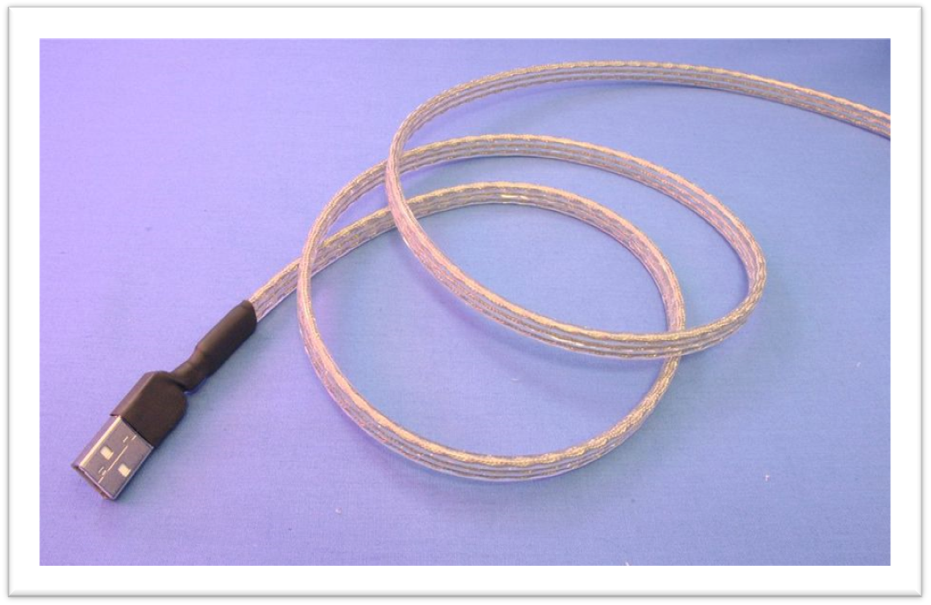 Valencia, CA; March 14, 2021: Designed for applications where other USB cables fail, Cicoil's highly flexible USB 2.0 cables are rugged, halogen-free + flame retardant (HFFR); and perform exceptionally well when continuously flexed and exposed to extreme temperature conditions (-104°C to +165°C). This combination of features makes Cicoil USB 2.0 cable the ideal hybrid power & high-speed data cable choice for Operation Critical Applications.
Cicoil's patented extrusion process allows one individually shielded 30 AWG 100 Ohm data pair and two individually shielded 24 AWG power conductors to be placed in a small, flat profile, precisely controlling the spacing of each component, insulation thickness and the overall cable shape. As compared to bulky, round USB cables, the Flexx-Sil™ Rubber encased Cicoil USB 2.0 cable design offers significant weight savings and utilizes less space.
While meeting or exceeding the requirements of the USB 2.0 standard, Cicoil's USB 2.0 cable is designed to provide high speed data transmission rates of 480 Mbps (video & audio), power and above average suppression of Electromagnetic Interference, especially in continuous motion applications.
The standard Cicoil USB 2.0 cable is available for quick delivery and is compatible with standard Host-to-Host type A-A and Host-to-Peripheral A-B connectors. Fully terminated assemblies are available in 3 ft., 6 ft. and 12 ft. lengths with both connector options as well.
The ultra-pure Flexx-Sil™ jacket offers 100% transparency, is self-healing from small punctures and will not deform or prematurely age due to prolonged exposure to sunlight, steam, arctic temperatures (-104°C), high heat, (+260°C) ozone, UV light, radiation (107 Roentgens), humidity, fungus, autoclave, alcohol, acid, water, sodium chloride, vibration and many chemicals. When a non-adhering or abrasion resistant jacket surface is desired, Cicoil offers its SlideRite™ and GlideRite™ coating options by request.
Cicoil's USB 2.0 Cables are UL Recognized, CE Conforming, RoHS & REACH Compliant, Class 1 Clean Room and are cured continuously, with no debris or material impurities in an automated, climate-controlled environment. In addition, these environment friendly cables are 100% contaminant-free, exceed the outgassing requirements of ASTM E-595 and pass UL/CSA VW-1, FT 1 & FT 2, UL 94V-0 flammability testing and FAA burn testing.
Cicoil has been a leader in designing and manufacturing high performance cable assemblies for over sixty years. The company's Patented Flexx-Sil™ Flat Cable Technology provides high flexibility, extremely long life, and they can withstand temperature extremes from -65 degrees to +260 degrees Celsius. Cicoil's flat cables are used in thousands of demanding applications, including aircraft fuel control cells, semiconductor automation, and the International Space Station. Cicoil designs and manufactures its Flexx-Sil™ jacketed cables and cable assemblies in an automated facility in Valencia, California. Cicoil's quality assurance system is certified to the ISO 9001 (AS9100) standard. Visit www.cicoil.com for more information, or call 661-295-1295 to speak to an application engineer.